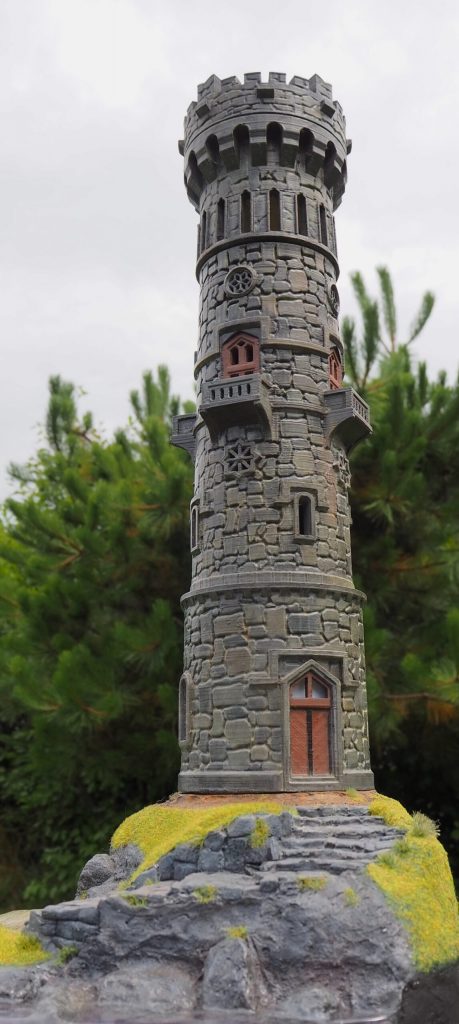 The Wizards Tower is based on a model I found on MyMiniFactory called "The Lookout Tower". It is split up in three parts which stack on top of each other and looks quite impressive, it also to scale with 28mm D&D miniatures.
The Tower
Because of all the details around the doors and windows as well as the brick work soothing the surface by sanding was not an option. I printed in 0.15 layer height and used adaptive layer height feature of the PrusaSlicer, Filament was extrudr PETG with the Generic PETG profile that comes with the Slicer that actually works pretty well. I had to remove some fine stringing especially around the small windows but all in all it came out pretty well.
I first added a layer of filler primer and gave it a light sanding to get the surface a bit smoother. After that I laid down a matt black base code with a rattle can and started to paint each stone separately using a wide variant of Vallejo gray and brown colors. I used every shade for a maximum of like 3 stones on each part, then I mixed a different shade and continued. I sealed the paint with a coat of matt varnish and finished with Vallejo black wash.
On the inside I glued in circles out of 6mm plywood to separate the different "floors" and added rings with 12 NeopPixel LEDs to each of them. All is wired up to a ESP32 in the base, which allowed me to simulate nice glow and fire effects and give the impression that there is actually somebody living in there. I haven't had the time to finish scripting the light show once I get around to it, I will provide a video.
The Base
The Base is build on top of 4mm MDF, the hill is made out of expanded Polystyrene (Styropor) covered in plaster of paris. The stone stairs are made out of extruded styrene and the Rocks at the coast are actually rocks out of the garden.
Paint was done with the same Vallejo colors I used for the tower, added some static grass and some tufts. The earth parts a sculpted with a texture past by Vallejo and the water is clear epoxy resin with some sparkly purple pigments mixed in … which you really when you take a closer look at the water,